New double waste sorting bin models - R and D 23 - 11- 2023
18-11-2023
Double waste sorting bin for the building's lobby
New double waste sorting bin models were researched and developed by Viet Nhat Nghe Company on November 23th, 2023 for the Saigon Centre Project in District 1, Ho Chi Minh City.
Double waste sorting bin for the building's lobby according to Saigon Centre requirements.
1.The first compartment holds household waste
Household waste is the amount of waste discharged into the environment from human daily life and production activities.
Examples: Plastic bags, food, fruit peels, unusable or damaged objects, etc.
Symbol of household waste
2. Second compartment holds Hazardous waste
Hazardous waste is waste generated during the production process that contains elements that are toxic, radioactive, infectious, flammable, explosive, corrosive, and harmful to the environment and human health.
Examples: Dyes, detergents, needles, batteries, fluorescent light bulbs,etc.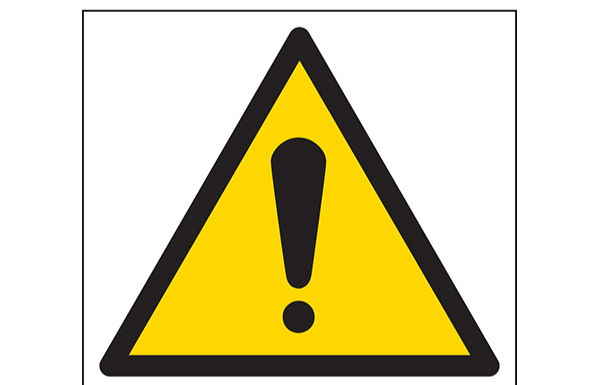 Symbol of Hazardous waste
List of Commercial bin OEM products belonging to product group B7
Model 1
Commonly found in shopping centres, leisure facilities, and busy public areas such as train stations and airports, the Console Recycling Bin is designed to separate three different types of waste without taking up too much valuable floor space.
Made from the finest quality materials, the Console Recycling Unit features a tough powder-coated galvanised steel outer, 3 removable inner liners, magnetic doors for quick and easy access, and 3 large apertures, one for general waste and the other two for the recyclable waste of choice such as cans, plastic bottles, paper or glass. Available in three stylish colour choices to complement all environments, it is a great value recycling station for high traffic areas.
Features:
Powder-coated galvanised steel construction

Total capacity 240-litres (3 x 80-litre inner compartments)

Magnetic access doors

3 waste streams

Centre aperture for general waste, choice of left and right apertures
Size: H 900 x W 1004 x D 502 mm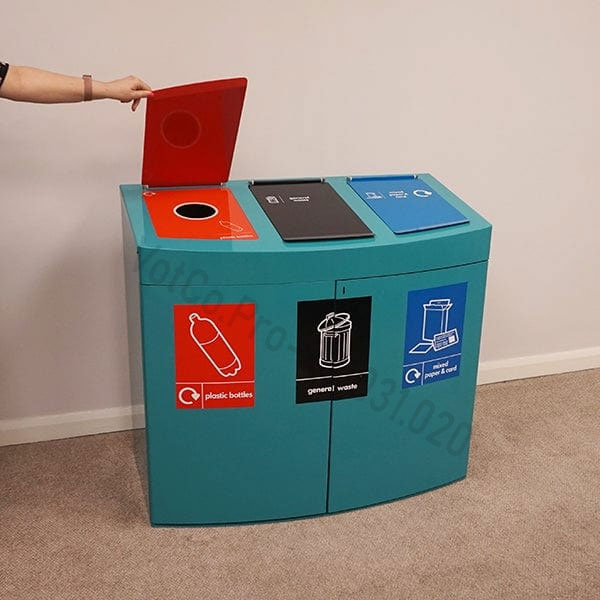 Purchasing for the project: Order Product
Model 2
Elegantly crafted from the finest aluminium, this Double Compartment Recycling Bin features two plastic inner liners, a removable lid with two apertures, one for recyclables, the other for general waste, and a classic design that would suit any office, school, hotel, or public facility where recycling is encouraged.
Features:
Total Capacity 120 Litres (2 x 60 Litre Compartments)

Manufactured from Aluminium

2 Plastic Inner Liners

Removable Lid with Two Apertures

Modern Design
Size:
Height: 830mm
Diameter: 508mm
Purchasing for the project: Order Product
Model 3
A versatile rubbish receptacle for schools, shopping centres, offices, and business premises, this Popular Twin Litter Bin features two individual compartments to encourage the correct disposal of litter and recyclable waste. It features a polyethylene outer shell, two 70 litre galvanised steel inner liners, two recycled plastic lift-off lids, and a classic design that will complement both indoor and outdoor areas. This Popular Twin Litter Bin is a great value option for all public environments.
Features:
Total Capacity 140 Litres (2 x 70 Litre Compartments)

Available in 10 Colours

Made from Polyethylene and Recycled Plastic

Two Lift Off Lids

Choice of Graphics

Optional Ground Fixing Bolts Available to Purchase Separately
Size: H 790 x W 800 x D 410 mm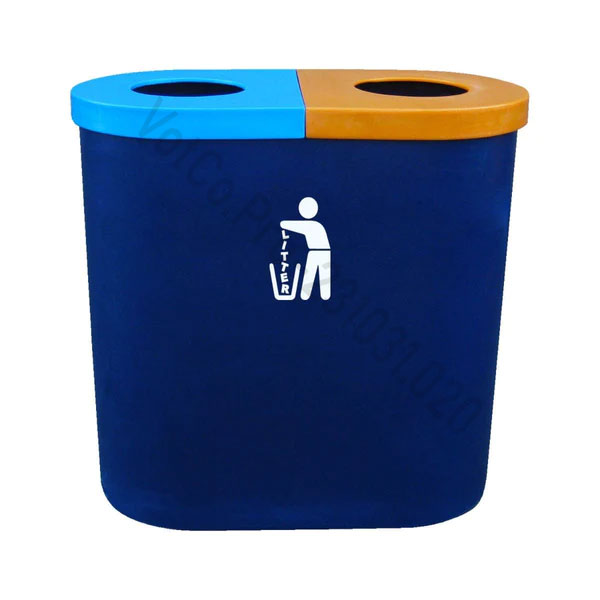 Purchasing for the project: Order Product
Model 4
The C-Bin Double Stream Recycling Unit is the perfect choice for schools, offices, business premises and busy public areas where recyclable materials are collected throughout the day. Manufactured from tough 2mm galvanised steel and available in a choice of sizes and colours to complement every environment, they are easy to clean, require minimum maintenance, and they line up against the wall to maximise floor space.
Ideal for recycling cans, bottles, batteries, confidential paper, and mixed recyclables, the C-Bin Double Recycling Bin allows you to separate two different waste streams with ease. Simply choose your preferred colour-coded lid options and optional recycling stickers to create a personalised recycling bank.
Features:
2mm galvanised steel corrosion resistant construction

Available in silver, transparent or mixed colours

2 sizes to choose from 120ltrs and 160ltrs

12 different recycling lids

Streamline design

Removable bodies for cleaning and emptying

A5 Graphics supplied as standard
Sizes:
120 Litre: H 760 x W 640 x D 330 mm

160 Litre: H 910 x W 640 x D 330 mm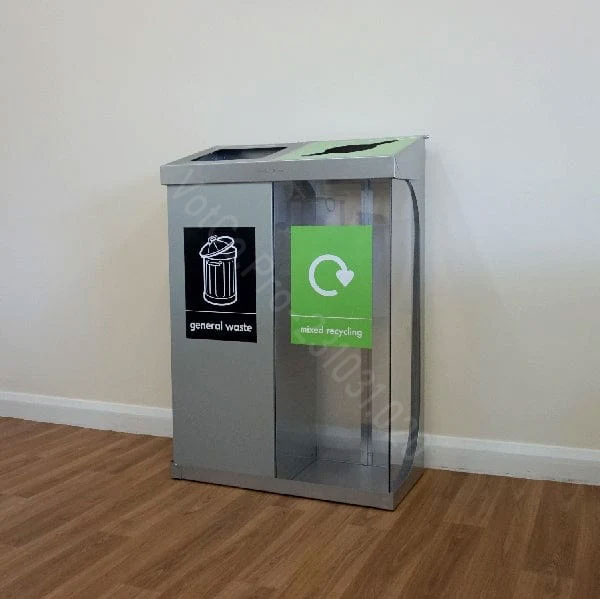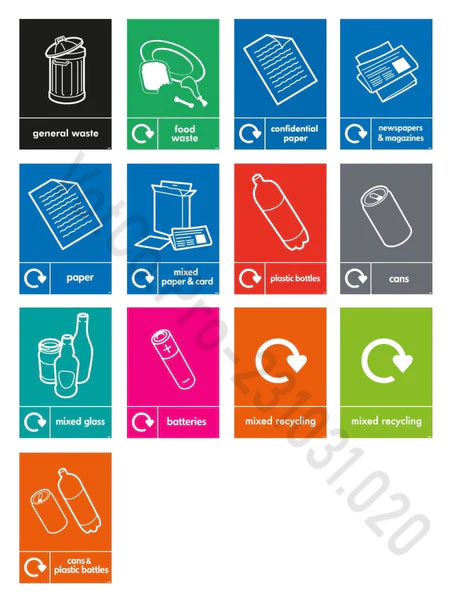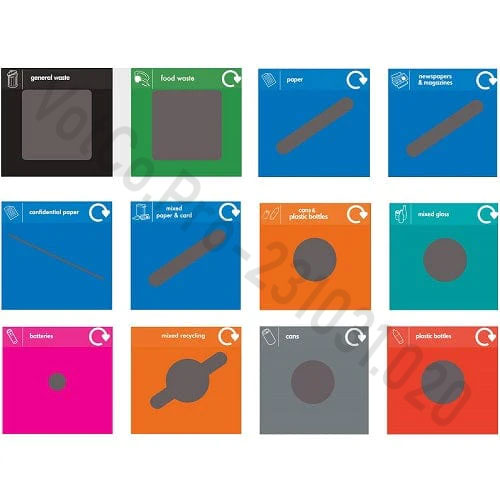 Purchasing for the project: Order Product
Model 5
A modern recycling solution for business premises and public areas such as schools, leisure complexes and shopping centres, this Lute Double Stream Recycling Bin allows you to collect two different waste streams in one practical unit.
This Double Recycling Bin features a 2mm galvanised steel outer shell, two removable galvanised inner liners, each with a total capacity of 80 litres, and a magnetic front opening door for quick and easy access. The classic open apertures can be replaced with lift-up lids by selecting this option upon check out, and this designer recycling receptacle can be personalised with any 2 waste streams listed in the drop-down options.
Features:
Slim design recycling bin

160-Litre capacity (2 x 80 litres)

Manufactured from 2mm galvanised steel

Removable inner liners

Available in 3 colours

Choose from 10 waste streams

Add recycling graphics and optional lift-up aperture on check-out
Size: H 930 x W 735 x D 455 mm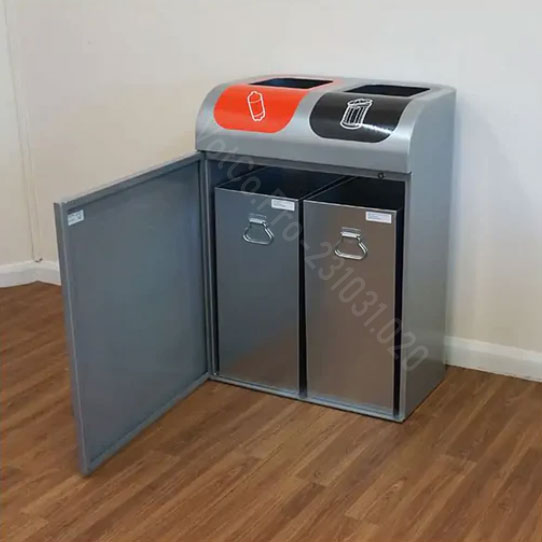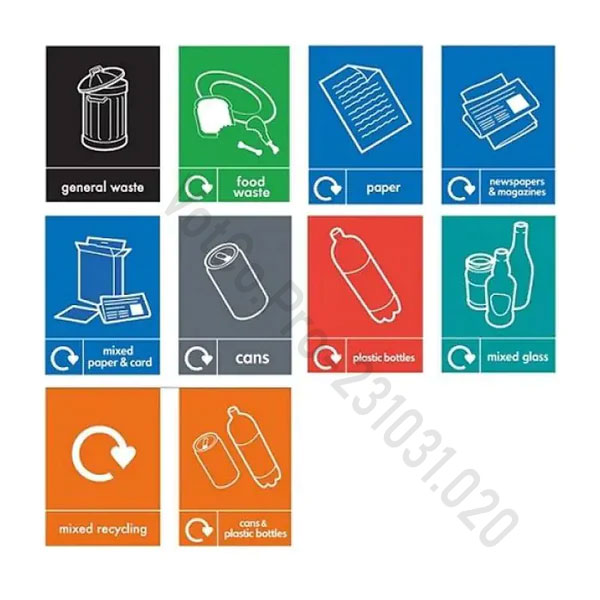 Purchasing for the project: Order Product
Model 6
A modern waste collection receptacle for professional working environments. Made from galvanised steel and powder-coated with epoxy-polyester, it features two 80 litre plastic compartments, a choice of apertures, and a secure locking system to prevent unauthorised access. Model comes with the recycling labels of your choice (mixed recycling, general waste, paper, plastics, cans, food waste and confidential).
Features:
Made from Powder-Coated Galvanised

2 x 80 Litre Removable Plastic Liners

Choice of Recycling Stickers

Confidential Paper Slot Available

Secure Locking Mechanism

3 Bay Option Available

Manufactured in the UK
Size: 1105 x 630 x 550 mm
Purchasing for the project: Order Product
Model 7
Modern, stylish and extremely practical, this 80 Litre Recycling Bin with Painted Sides is a great choice for schools, hospitals, offices, and busy public areas with high levels of pedestrian footfall. Manufactured from the finest epoxy coated steel, it features an integrated bag retaining system, a front access door with a wing-knob locking mechanism, and a choice of apertures.
This Recycling Bin with Painted Sides can be personalised with the recycling label of your choice, and it can be used solo or as part of a group to form a complete recycling station.
Features:
Manufactured from Epoxy Powder Coated Steel

80 Litre Capacity

Choice of Apertures

Available in 6 Colours

Recycling Label Included

Front Access Door with Locking Mechanism

Integrated Bag Retention System
Size: H 1020 x W 380 x D 380 mm
Purchasing for the project: Order Product
Model 8
Made from top-quality materials, they are available in white, silver or transparent, and come with a choice of colour-coded lids and apertures to suit all types of recyclable waste such as plastic bottles, cans, and paper.
Available in two different sizes, 120-litres and 160-litres, these Double Box Cycle Recycling Bins can be personalised with the body, lid, apertures, and recycling graphics of your choice to create the perfect recycling station for your working environment.
Features:
120-litre and 160-litre options available

Transparent, white or silver outer shell

Bag retention system

Choice of colour-coded lids/apertures

A4 Stickers supplied as standard

Non-slip base
Sizes:
60 Litre: H 700 x W 640 x D 320 mm

80 Litre: H 850 x W 640 x D 320 mm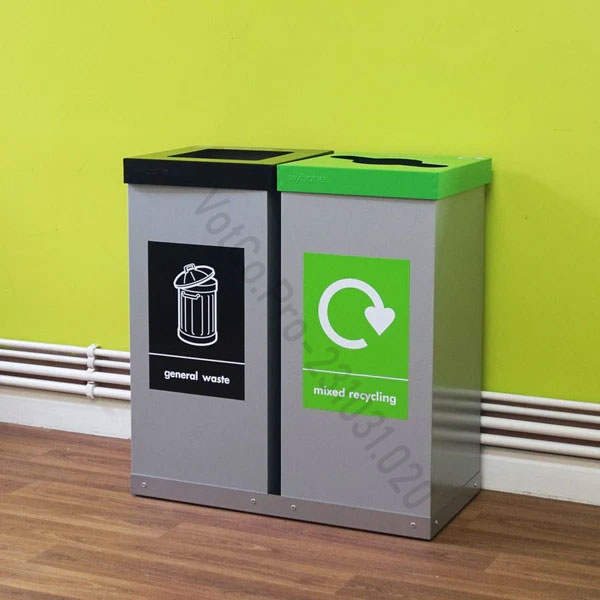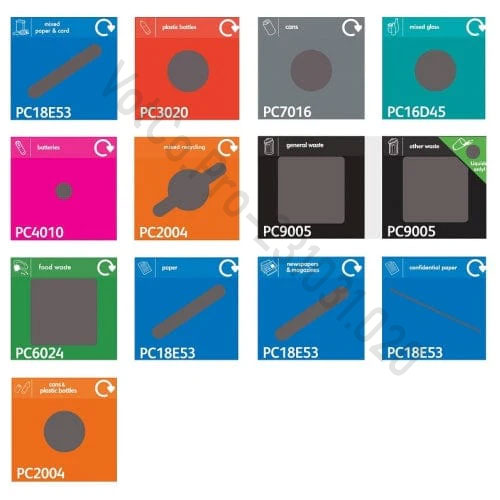 Purchasing for the project: Order Product
Model 9
Premium twin waste bin, perfect for internal use (suitable for outdoor too), with a 80L capacity removable liner in each bin. Manufactured in Australia from galvanised sheet and finished with a premium, high-quality powder coat. Can be bolted down or left freestanding.
Features:
APO Grey + Western Red Cedar Door

Volume: 80L capacity (gal liner x2)

Weight: 80kg

High quality camlock
Size: 800(W) x 400(D) x 800(H)mm
Purchasing for the project: Order Product
Model 10
Product Name: Two-compartment Stainless Steel Recycle Bin
Material: Stainless steel 304
Size: 90W*50D*80H CM
Application: public area, restaurant, building, train station, gas station, and museum, etc.
The inside has two stainless steel 304 liners, 17 gallon (46L*35.5W*40H CM)*2 pcs
Purchasing for the project: Order Product
Model 11
Three-compartment trash sorting bin at Aeon mall Binh Tan.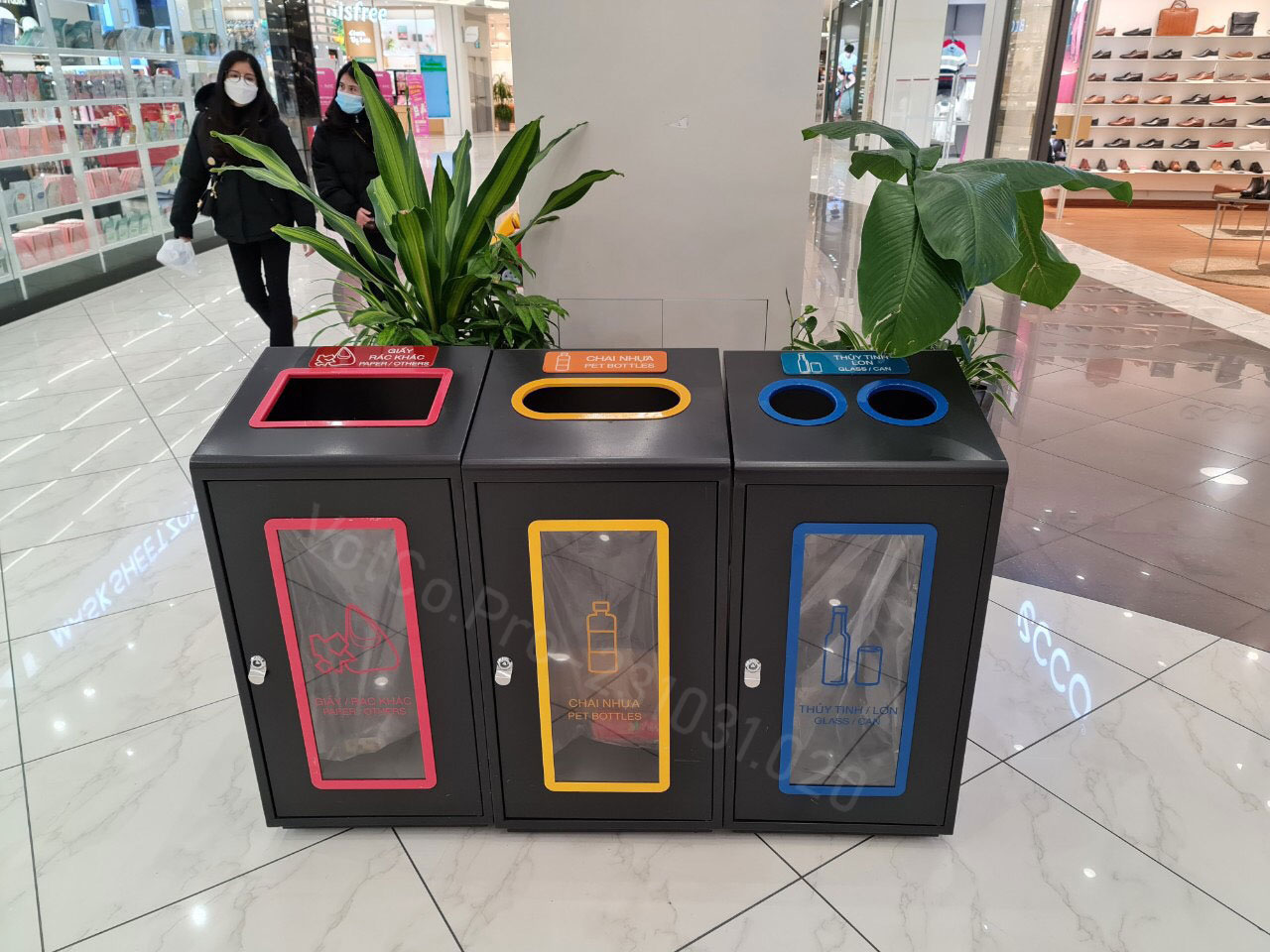 Purchasing for the project: Order Product
Refer to more projects provided by VotCo:
☞ Thùng rác 2 ngăn bằng kim loại - Rác sinh hoạt & Rác nguy hại chuyên cho Building
---
Write copyright
Content editor: Linhngo
Photographer/ Designer: Minhnguyen
Web editor: Linhngo
Copyright © 2022 - Vietclean . All Rights Reserved.